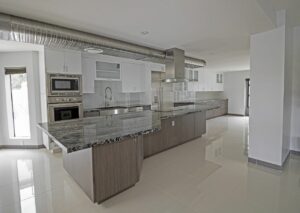 When it comes to choosing between a modern and contemporary kitchen, it's easy to confuse the two. Both feature clean, smooth appearances with minimal detail and adornment. Unlike farmhouse and rustic, both modern and contemporary are defined by sleek lines in predominately white and black.
But these kitchens don't preclude color. Color is used to accessorize or accentuate small or minor features. The difference is how each style incorporates it.
Here's what differentiates the two:
Contemporary kitchens embrace the latest in technology, materials and trends to create an "of the moment" look. Modern has more emphasis on form and structure by installing smooth surfaces like concrete and steel. You'll see strong horizontal lines with lots of open space and a strong architecture.
 Key features to look for in contemporary are:
Under mount sinks with minimalist faucets
Cutting-edge appliances that include smart kitchen technology
Flat-panel cabinetry and creative backsplashes
Innovative island designs and waterfall counters
Dramatic lighting
While modern kitchens are similar, here you'll find:
Concrete for flooring, countertop surfaces and even on the walls
Glass sheet or stone slab backsplashes that run continuously
Recessed and integrated lighting and if using pendant lights, ones with clean lines
Frameless cabinets with flat-panel doors
Minimalists faucets in polished nickel, chrome and matte black
White is a popular choice for both but is used differently. For example, a contemporary kitchen will have crisp white walls with colorful cabinetry or an eye-catching backsplash. Modern may use the same white but is more likely to include subtle neutrals and black. Here brighter colors usually show up in the form of accessories.
Both styles emphasize a clean, uncluttered look. It's the subtle differences that let you choose which style you prefer.