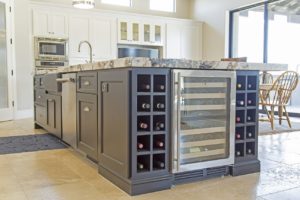 If you've just gotten a kitchen revamp then you'll want to get the most of your new kitchen as you can. You want to make sure you have the Best Toaster, mixer, blender, utensils, etc. the finally give you the perfect kitchen. But how will you make sure everything is stored neatly away? Our previous article on kitchen islands focused on how the island has evolved from an extra table for food preparation to extended counter space that's now a social hub. Not only do kitchen islands define the rest of the room, they supply easy-to-reach storage for regularly used items.
When it comes to design, you can opt for utility, beauty or a combination of the two.
Starting with utility, deep pull-out drawers are great for pot and pans. For small items – add customized shallow drawers to organize and store spices and small utensils.
An increasingly popular option is drawers with mechanisms that lift smaller appliances. Normally tucked out of site, the mechanized 'arms' raise appliances like microwaves or toaster ovens to comfortable levels. The advantage is that these items are only visible when actually in use.
If you want your island to be the focal hub for more than just cooking, consider un-kitchen items. Think about art supplies and homework necessities for the kids. Additionally, some homeowners use their kitchen as a mini-office to include taking care of tasks like bill paying.
Too often people underestimate their storage needs. Before you start your remodel, think about how you cook, what activities and jobs take place and what gets used most often.
And don't forget the décor. Closed shelved storage gives you a simple, cleaner look. Open shelves offer more decorative options as well as being useful. The combination of both lets you design the exact look you want.
Too many things to think about?
Let us help you determine how you can make your island work and look best for you.