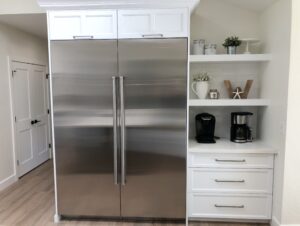 With families spending more time in the kitchen together, it can get a little crowded! One way to be together without bumping into each other is to install a coffee station.  From grinding beans to making specialty coffees to simple coffee pods - it adds convenience and style to your kitchen. You just have to decide how you want it to look.
If your coffee maker always 'sits' out in the open:
Add open or closed shelves directly above the maker to store everything from colorful cups and saucers to coffee syrups.
Consider floating shelves for a modern look or mount coffee crates on the wall for a little whimsy.
Add a pull-out shelf beneath the countertop for more preparation surface.
Want to hide the station while not in use?
Stash the coffee maker and all accessories behind pocket doors.
For a station tucked in a corner or located above the countertop, small appliance garages have cabinet doors that lift up and out of the way to make more room.
How about drawers instead of doors?
Pull-out drawers are best placed at a height where preparation is comfortable, usually the space that falls between your waist and elbow. Accompany it with a second pull-out drawer to store the accessories.
For coffee stations that include or only use a pod style brewer, it's easy to add a custom coffee pod holder to the inside of the cabinet door.
Another feature is to incorporate a water faucet and small sink to rinse cups and pot in the same place.
Finally, no matter where your coffee station is located, under-shelf lighting allows you to prepare a great cup of java anytime of the day or night.