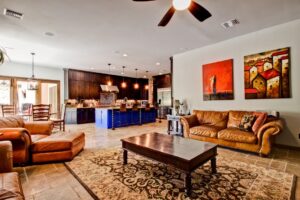 Several of our blogs talk about how the kitchen is the heart of the home. More and more families want to encourage interaction using multiple islands, banquette seating and more space. This means taking down non-supportive walls and removing big over-the-island hoods. It utilizes cabinets designed to both maximize storage and integrate with the rest of the home.
Nearly half of current remodel projects make kitchens more open to adjacent spaces and it requires more thought to how finishes and materials for the added rooms work together.  Again, cabinetry is the key to function and appearance.
We discussed changes in cabinetry in Remodeling trends for kitchen islands in 2020. One way is to contrast island cabinets with perimeter cabinets using different shades of one color; or a different color altogether.  Another is to make cabinets more colorful as stated in the latest styles and color for kitchen cabinetry.
Kitchen lighting is also seeing a change. While recessed lights are still popular; pendant lighting along with under-cabinet and toe-kick lighting works together to create a warmer atmosphere. This combination eliminates glare and shadows.
And don't forget the rooms the kitchen opens up to. Whether a dining room, living room or great room, it takes more planning to pull the entire area together. One way is to have square and rectangular cutout shelves in the adjacent room echo the shapes of the kitchen cabinet panels.
Another small but important detail is hardware. Matching - or better yet – using complementary finishes for door and drawer handles throughout is a great way to pull the rooms together.
Because open kitchens are more complex, it's a good idea to consult with a professional who will show you how planning to the last detail brings out the best in your home.  Cornerstone Cabinet Company will help you!