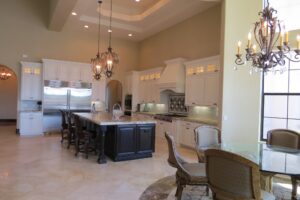 With the trend in adding a "work" kitchen to the "social" kitchen, let's look at where kitchen appearance and function is headed.
Last February, the Kitchen and Bath Show in Las Vegas showcased a plethora of new views. Many kitchen designers now incorporate fashion-forward features like glass fronts and LED lights on refrigerators. Appliances and cabinetry have chic leather and metal hardware. Back-splashes now feature unusual finishes like shagreen, metal, raw wood and artful murals.
Tech is also the buzz and smart kitchens are definitely going digital. Currently Smart-touch faucets turn on and off with just a tap. Refrigerators feature integrated cameras that allow people to check their groceries from both inside and outside the home. Induction cook tops save energy with technology that changes heat settings instantaneously.
Now think of dishwashers responding to voice commands and appliances that could communicate with each other to create shopping lists, meal recommendations and cooking instructions. Not only futuristic, these features dovetail with the trend towards Universal Design – the approach that makes living at home easier for everyone at every age.
This is why experts believe innovations for the sake of technology alone will be weeded out. They see the market moving towards technology that not only looks sexy, but improves kitchen function and ease of food preparation.