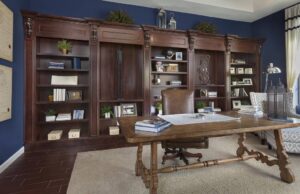 The Home Office Trend Is To Customize Space For The Entire Family
There was a time when the 'home office' applied solely to corporate executives. Traditionally defined by wood-paneled walls, large oak desks and leather-bound chairs; this space was dedicated to the head of the household as his "office away from the office."
With the explosion of remote employees and work-from-home businesses, this once 'exclusive' room is now used by any family member. More than employment, it's the family place to do everything from paying monthly bills to homework assignments.
Custom cabinetry is the best option to increase both safety and efficiency. Let me explain…
Safe and Secure, or Open to All?
The business office:
How cabinets are placed for security is more important than ever. They may need to be high enough to stay of children's reach, or come equipped with locks for sensitive documents and files. To maximize efficiency, office cabinets can be customized with built-in file dividers and holders…and have as many drawers as needed for whatever 'tools' the work requires. Some businesses decide to use an electronic filing system instead of having paper files as they can be easily organized and accessible. That way, it doesn't matter if you run out of space in your filing cabinet as it is all done on your computer. By checking out a company such as FilecenterDMS can offer an alternative solution if you start to run out of space in your cabinet.
The family office:
Where the home office is multi-functional; parents and kids may share the same space. Here's where cabinets with open shelves, glass-paned doors and bins keep the kids items separate and away from what parents need in order to take care of business.
Questions To Ask When It's Time To Re-Model
"What's the objective?"
"Who needs it and how will they use it?"
"Why do it now?"
Just as we convert laundry rooms to multi-purpose space; the same holds true for the home office. From traditional to modern, professional to casual - check out our photos here to see how efficient, creative and individual your home office can be.
Need more ideas?
Replace your desk with a work table.
Add multiple workstations around the room or against the walls for when more than one person is working.
Using wood cabinets in place of metal warms and personalizes the room. You can find some wooden filing cabinets at Office Monster.
Instead of the traditional cushion on a window seat, use baskets or leather containers to place current projects within easy reach. Add wood filing cabinets underneath.
Store books in open cabinets, visible in cabinets with glass doors, or hidden altogether behind wood doors.
Best of all, office cabinets come numerous configurations to fit your style. At Cornerstone Cabinet Company, we work with companies like Oakcraft Elegant Cabinetry, WW Woodproducts and Timberlake to customize your office cabinetry to your specific needs and taste.