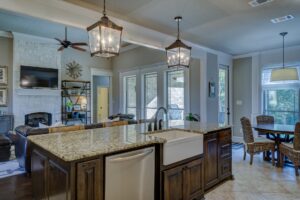 Once you've decided a Farmhouse Sink fits your kitchen style, you now have a number of options to customize this critical area.   
Previously in our article - "Farmhouse sinks gain popularity"; we discussed the characteristics that differentiate Farmhouse Sinks from modern ones. We included additional features to consider before you purchase.
"Different materials customize Farmhouse sinks." reviews a number of options of materials to choose from – including the pros and cons of each.
Now let's look at the options for placing hardware: 
Is there a best location?
The three ways to mount hardware are on the sink itself, the surrounding deck, and on the wall.
As the name suggests, sink mounted hardware has holes drilled into the sink itself. The type of hardware, either single or double handed, determines the number of holes needed. Single handed faucets with the water temperature and pressure in one assembly only require one hole. Double handed faucets with the water controls separated from the faucet need three. If you add an additional faucet (maybe one for filtered water) it can go up to four.
But suppose you fall in love with a collector's sink that already has holes? Or want to change the faucet style in the future without giving up the sink? If your change requires fewer holes, you can use an escutcheon plate (deck plate at the base) to cover the one(s) you no longer need.
Deck-mounted faucets put the hardware in the countertop surrounding the sink - a style well suited to contemporary kitchens. With this option, be careful of how water, dirt, and grime accumulate between the faucet and the wall. The way around this is to make sure the cabinet maker allows more than a finger's worth of space between the faucet and the wall behind it to ease cleaning.
Hardware mounted on the wall is the third way and easiest to keep clean. The trick is where it's placed. Studs may get in the way and have to be moved. Also, the distance the faucet projects out determines whether or not it's compatible with the sink. This can be more complicated with double sinks.
As you can see, working with a designer helps you sort out the options to get the right look and function without trial and error. We're proud to offer whatever guidance you seek so you make the best choice for your kitchen the first time.