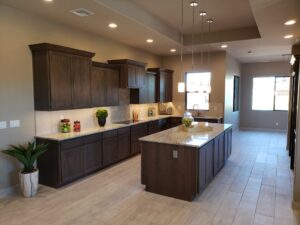 Recently, "less is better" has taken interior design by storm. As a simple, streamlined style it creates a sense of order and calm, especially to hard-working rooms like kitchens.
It's also adaptable to a wide range of decorative styles when it comes to cabinetry. Usually shaker cabinets come to mind and the materials you choose can range from industrial chic to mid-century modern. Currently one of the strongest trends is to work with luxury woods and finishes.
Whichever way you go, complete your kitchen by selecting high quality appliances, lighting and hardware. The bare-bones look of minimalism shines a spotlight on every component of the space. That's why it's critical to make sure each element can withstand the scrutiny. It may require more thought and planning than other decorative styles and we're here to help!
Renovation projects offer the best opportunity to create a minimalist design that reveals the intrinsic beauty of spaces, materials and furnishing, by stripping away unessential elements. We design kitchens that function best while preserving the cool and serene atmosphere that people desire these days.