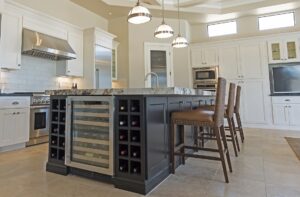 The kitchen is often called the "heart of the home" but it can also be the brains. A smart kitchen features devices that are connected via Internet technology, Bluetooth or Wi-Fi. They can be controlled remotely with a mobile app or a voice assistant like Amazon's Alexa. Smart products make cooking more fun, easy, precise and safe.
You don't need a total renovation to create a smart kitchen. Consider a refrigerator that streams music and video, features a touchscreen, adds to a shopping list with voice commands, and has cameras to see inside. A smart dishwasher can be controlled remotely. A touch faucet can pour specific amounts and warm up water with voice commands.  A smart stove connected by Wi-Fi to a mobile app can send get alerts when burners are left on. You can even remotely operate your stove - preheating the oven before you arrive home or shutting it off when cooking is complete.
Cabinets play a major role in smart kitchens. Custom cabinets must be designed to work with tech gadgets for maximum efficiency. Having a lot of electrical outlets and a few USB ports right where you need them can make all the difference so they can be installed directly into cabinetry. A beverage station provides extra storage for water, wine, and juice items while keeping your fridge free for more important tasks. A microwave with a recessed control panel built into the kitchen island can make quick snacks accessible for the whole family. A heavy-duty lift that turns a shelf into extra countertop space can be great for infrequently used smaller smart appliances like crock pots, digital scales and vacuum sealers. Because smart kitchens require a lot of extra wiring, work with Cornerstone Cabinet Company designers to plan ahead for connected cooking…. And visit PC Magazine to learn more about the hottest new kitchen devices.