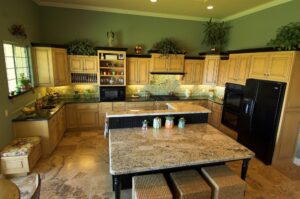 In "How islands are shaping the future of kitchens" we left off with the idea that seating around kitchen islands is moving beyond the typical bar arrangement. Even more than stools around two sides, kitchens with enough room are following the trend to seat people across from each other.  One way is to have seating on three sides. The other alternative is banquette seating.
Banquette seating refers to the built-in benches often found in restaurants. Traditionally, booths and banquettes are a cozy way to dine and this type arrangement is moving into homes. The islands are typically built in an L-shape with the table nestled in. The table can be attached or stand free and the surrounding seats may include chairs, benches or a combination of both. It adds a casual and multifunctional element to kitchen islands and is a great way to transition from kitchens to family rooms.
Kitchens used to be isolated rooms solely used for food preparation. Now they are the center for family activities. With busy and sometimes chaotic lives, families are looking for design that brings people together so they can focus on relationships, relax and talk. Taking kitchen island shapes beyond squares and rectangles offers more seating options, including banquette seating, and encourages conversation that can make everyday life rewarding.