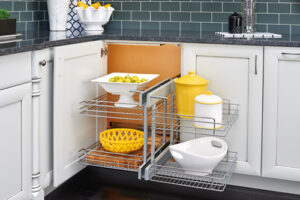 The idea of Universal Design tends to confuse homeowners because people think it's only for those with special needs. Nothing could be further from the truth. Not only does Universal Design adapt homes to residents, it makes homes beautiful.
Technology - like faucets with lever handles or touch sensors - allow anyone at any age and capability to get the water they need to drink or cook with. New, elegant designs fit in seamlessly with every style kitchen to complete that up-to-date look.
It also places appliances in more convenient locations to operate. Instead of microwaves up over the stove, new cabinetry designs with pull-out drawers make them easy to reach with enough room to operate. When not in use, they can be "tucked away" to create a clean overall look. Not only more convenient, it's much safer than reaching over potentially hot burners when heating or thawing food.
Universal Design also recommends raising the dishwasher at least eight inches off the floor. This reduces stooping over to load and unload those items on the bottom rack which tend to be the heaviest. It also creates a different level counter top to accommodate taller adults or to store items out of reach of the children.
New designs in cabinetry also help homeowners keep their balance by opening access to all items, even those stored in the very back. Cornerstone Cabinet Company partners with companies like Rev-a Shelf who specialize in designs that include levers and springs that gently lift, pull down or pull out shelves. They bring whatever you need right to your fingertips, make use of every inch of space and enhance the overall appearance of your kitchen.
Universal Design is the way to upgrade function and appearance at the same time. With kitchens becoming the focal points for so many families, Universal Design supports being able to prepare food while socializing.