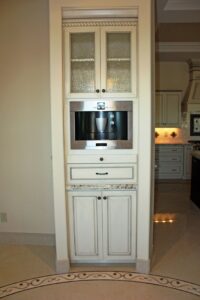 There are some cabinets that never go out of style. Shaker cabinets are a prime example. Certain types of glass cabinet doors are another.  Glass is so versatile!
Open shelving can soften the overall appearance. "Push-door" mechanisms on glass door cabinets keep that sleek, clean appearance.
But if rustic, farmhouse and more traditional looks are what you're seeking, glass really shines. Glass doors give you a way to decorate with dishes, decorative items and even some greenery. Glass doors add softness with back lighting.
These cabinets are the perfect compromise between solid cabinetry and open shelving. For beautiful dishes or favorite decorations, they let you display everything with the additional advantage of keeping out dust.
You also have a lot of variation based on the type of glass you choose. Transparent glass is the most common and the most versatile as it suits all types of kitchens. The biggest drawback is how easily it shows fingerprints.
Frosted glass is blasted with sand or grit. Frosted is not the same as opaque. It hides little details but the silhouettes of items are still visible. It can be even be etched with custom patterns and designs.
Additional options include molded or embossed glass to produce textures. These include rain, ribbed, pebbled, grooved or beveled glass. These options aren't as susceptible to showing marks or fingerprints. What's important is that you love the texture you pick. Some designs become outdated quickly.
Seeded and leaded glass add an artistic look but again, any specialized choice needs to be personal as these looks are subject to outdating.
Glass door cabinetry has the ability to add depth and personality to any style kitchen.