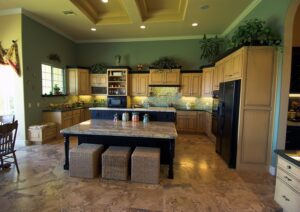 We know some things in kitchens never change. Appliances may be sleeker, materials improved and color palettes may be broader. But let's face it, the kitchen continues to be the heart of the home where most of the hard work takes place. Probably the biggest change we've seen over the years is to open the kitchen up to the rest of the house.
And for good reason…
After all, who wants to be isolated from company or the rest of the family while preparing food?
Now the question is whether or not open kitchens are here to stay.
According to Sam Cochran of Architectural Digest, "Kitchens will continue to be the gathering spaces, with dining nooks and multipurpose work surfaces where you can both roll your dough or type on your laptop. But it's no longer a universal truth that a dream kitchen must be an open kitchen. "
In fact, many high-end homeowners are adding a second kitchen to serve as a working kitchen. It's especially popular with those who entertain a lot. Second kitchens or "backstage workhorse kitchens" allow the "social" kitchen to serve as the gathering space.  This way the kitchen continues to be the place to hang out without getting in the way of food preparation.
For those who have the space, two kitchens provide room for unhindered food preparation while maintaining the social kitchen we've come to love.