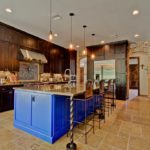 How to Get the Latest Trend with a Timeless Look
As stated in our blog ("Shaker- style Cabinetry and Hardware") the 2016 trend in kitchen design is beauty, simplicity, and functionality.
But what if you want more than what's trendy today?
At Cornerstone, our experience and expertise guide you to the look that says "NOW"; yet stays current well into the future. Shaker cabinets offer one of the best options to refresh your kitchen and keep it timeless.
Around since the 1800s, the Shaker profile stays true to its simplicity. It's adaptability to modern tastes is what makes it so classic. Whether you prefer country, contemporary, even an industrial look – the squared off shape adjusts to changes using different finishes and hardware. So let's review some of the characteristics of the cabinetry itself.
What Defines the Shaker Cabinet
Due to the frame and panel profile (also known as rail and style construction), pure Shaker style cabinetry is very plain.  A current popular trend is to add a slight beveled finish to give it another dimension.
Larger units can be divided into sections with a piece known as mid-rails, mid-stiles or muntins (strips of wood or metal).
Rows of big drawers, not uncommon in kitchens these days, create a repetitious look and Shaker cabinets fit right in.
How to Differentiate Shaker Cabinets with Finishes
Before the introduction of various finishes, cabinet craftsmen relied on the quality of wood… like maple, birch, and chestnut… to define the cabinet's beauty. Today, woods like cherry and walnut add an even richer look.
But you don't have to limit yourself to one type of finish. If a distressed or burnished appearance suits your style, we customize your cabinets to fit your vision.
Thermofoil, or vinyl wrap, is a laminate applied to medium-density fiberboard using an intense heat and pressure-bonding process. With Thermofoil, you can match your cabinets to fit any color scheme you desire. (Just note that Thermofoil will not have an edge as sharp as a painted or stained timber door.)
Finally, polyurethane can create a matte finish that enhances the characteristics of the wood it covers.
How characteristics compare in price.
MDF is generally the least expensive option, followed by Thermofoil. Painted finishes and solid timbers tend to be higher priced.
When you work with us, you choose from a number of quality cabinet companies, like Timberlake, Aspect, and others – who offer complete selections of custom cabinetry to match your kitchen dream.