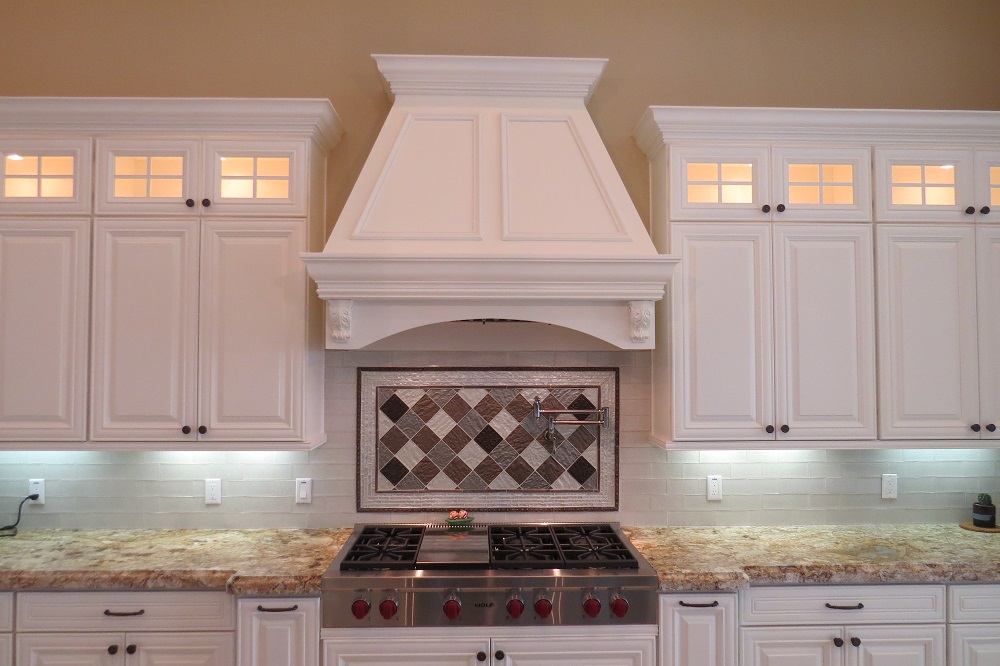 When you think of remodeling, one of the first items to consider is your kitchen. Statistics suggest that a quality kitchen remodel can actually help to increase the value of your home. When selling your home, an updated kitchen with modern conveniences can attract more buyers and set your home apart from other similar homes in your neighborhood. Cabinetry is typically one of the more expensive items in your kitchen remodel project, so choosing the right type of cabinetry for your home is very important.
Custom Cabinets
What you want is what you get, and what you imagine can appear in reality. Custom cabinets are typically manufactured by local craftsmen, tradesmen with honed skills, and sometimes by expensive automated equipment. Custom cabinets offer you a wide variety of wood species, the biggest selection of door styles, an assortment of options and modern conveniences, and a vast array of stains and finishes. Unlike modular cabinets, which are cabinets made in 3″ increments, custom cabinets are made to fit and are often made in the dimensions used by "Big Box" construction methods. Door and drawer combinations are no problem, and custom sizes, angles, differing height dimensions, special finishes, stains and glazing are all traits of custom cabinetry. A buyer must be careful though: just because someone builds custom cabinets doesn't mean the craftsmanship is of the highest quality. In choosing a custom cabinet manufacturer, always look at the manufacturer's portfolio, ask for references, and take a tour of their shop. There are also several national companies that build custom cabinets, but add shipping costs, and the possibility of damage normally means higher pricing.
Semi-Custom Cabinets
What you want is what you get, with a few limitations. Many cabinet manufactures claim to be semi-custom, but this term has a wide range of interpretation. The products or semi-custom manufacturers are catalog-based and built to order. There are good, better, and best semi-custom cabinets. Good means a limited amount of door styles, limited modifications, and options, like reduced depths and increased heights, a narrow scope of cabinets, limited stain choices and accessories. Better semi-custom cabinets have more door styles, the ability to modify widths as well as depths, custom features such as Wainscot finished end panels, specialty moldings, a larger selection of stain and glaze options, and the ability to modify existing cabinet configurations. The best semi-custom cabinets are just a step below custom cabinets, and many manufacturers that produce semi-custom cabinets have the ability to build custom cabinets. Some features to look for in the best semi-custom cabinets are custom hoods, fancy moldings, and all of the modifications previously mentioned above. Many semi-custom cabinets are even better made than custom cabinets. In fact, Oakcraft, a cabinet manufacturer based in Peoria, Arizona, has developed manufacturing systems in the same plant that produce all three categories of cabinetry: Custom, Semi-Custom, and Modular. Their philosophy is to give the customer what they want. They build "Big Box" construction, will purchase products from outside vendors that are not in their catalog, manufacture custom doors, change construction methods, provide color, and stain matches, all characteristics found in the manufacturing process of custom cabinets. Semi-custom cabinets are more affordable than custom cabinets, and can have a great deal of flexibility.
Modular cabinets
What you see is what you get. Modular cabinets are made with an assembly line mentality, and are limited to the manufacturer's catalog of products. If it's not in the catalog, it's not available. There are a limited amount of door options and stain choices. Typically, the selections in the catalogs are few in number, and the quality of materials used is often inferior to the material used in better manufacturing methods. Cabinets are made in three-inch increments, with few options and accessories available. Fillers are often used to make up space because of the more limited amount of sizes available. As the least expensive of the categories, these cabinets are often found in "Big Box" retail stores and DIY centers. Modular cabinets are often referred to as stock cabinets as well.
In summation, if you need cabinets now, or want to "freshen up" your kitchen remodel with inexpensive cabinets, modular cabinets are the way to go. If you want more choices without breaking the bank, semi-custom cabinets are a good option that is preferred by most buyers because of the flexibility, quality, and affordability of the product. If you can't live without your dream kitchen, then custom cabinets may be the right choice for you. Whatever your choice, cabinets are an essential element in kitchen remodeling.