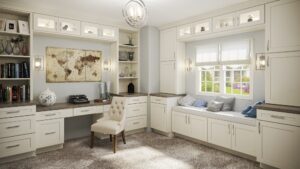 Most often when we think of cabinets, kitchens and bathrooms are first to come to mind. Now that home offices are included in most home designs, the ability to organize and store important items like documents, laptops and iPods is more critical than ever.
Whether an official place of work… the room where household tasks such as bill paying take place… or the location where kids do homework… office cabinetry influences both the appearance and function of whatever activity is performed.
In spite of how much we do electronically these days; items like pens, paper, paper clips, staplers and staples, scotch tape and stamps still need to be handy. Knee drawers that fit below the desk surface are the ideal place for these accessories. Take it a step farther by adding dividers.
Depending on how many files you have to have on hand, you have a choice of cabinets with single or double width drawers. For those who have less paperwork, a single door file drawer with a knee drawer on top may suffice.
When it comes to a place to store a brief case or attaché, cabinets with pull-out drawers are ideal plus give you easy access.  Built-in dividers allow for multiple items and if papers within are sensitive, the addition of a lock increases privacy and protection.
And don't forget cabinet hardware. Depending on how cozy or formal you want your office to be, knobs and cups versus handles make a difference. Homey offices are made casual with cup drawer pulls or knobs where it's easy to add a little bling or whimsy. Formal offices might call for C or D-shaped hardware with a customized finish like brass or brushed nickel.
Whether you prefer short, countertop height or tall cabinets, Cornerstone Cabinet Company customizes cabinetry to transform your office to suit your taste and needs.  PS – Home offices are a perfect place to use our new Import Collection.