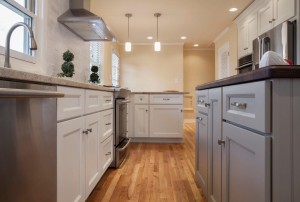 The term refacing infers to the process of changing the face or look of your home office, entertainment center, bathroom and kitchen cabinets by installing new doors and drawer fronts, and changing the appearance of the face frames of the cabinets to a new stain, and quite often a new wood species. Cabinet refacing is generally more ecologically sound than full scale kitchen remodeling, since the amount of debris put in the landfill is generally cut by almost three quarters. Ecologically sound materials such as bamboo can be selected to replace the outmoded hardwood or laminate doors and fronts.
Most companies here in Phoenix, Arizona that perform a refacing service use thin layers of wood veneers, PVC plastics, or laminates to put on top of your existing cabinet frames to give it a new face or appearance. The work is very similar but you need to understand which technique they plan to use before you agree to have the work done. The process of refacing, using veneers etc. is very labor intensive and has many limitations, such as a substantial amount of cabinet preparation that needs to take place in order to properly reface your cabinets, a limited amount of stain or color choices, and a limited amount of wood species available. The plastics and laminates used do not look exactly like wood and quite often do not match very well with the new wood colors.
Real Wood Refacing
However, a new way to reface cabinets has been developed that eliminates many of the limitations that cabinet refacing companies have faced in the past. The newest and best way to reface cabinet face frames is by using real wood.
To cabinet experts like Cornerstone Cabinet Company using real wood on the face of existing cabinets to go along with the real wood doors and drawer fronts makes perfect sense. The wood stains better, lasts longer, is much easier to apply, and has a more natural looking finish than the veneers that are currently being used. We have refaced using veneers, the old traditional method, and trust us, using real wood products is better in every sense than using wood veneers, or laminates. Being in the Phoenix, Arizona cabinet industry for 20 years has given us the opportunity to see thousands of jobs, many of them refacing jobs.
Getting Started
In summary, if your cabinets are old and out of date, if you are tired of the same look day in and day out, or maybe you have nice countertops and fixtures that you don't want to tear out, consider refacing your cabinets instead of replacing them.
You should look for a cabinet company that is diversified in the industry and specializes in refacing as well as new cabinetry. Moreover, if your choice is to reface your cabinets, then the obvious choice is using real wood on the face of your cabinets. Here in Phoenix, Arizona there is only one place to go for cabinet refacing and/or new cabinets, and that is Cornerstone Cabinet Company.