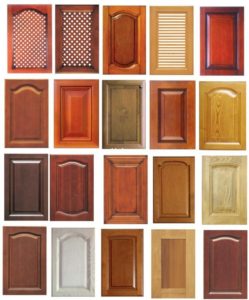 When the time comes to give your kitchen a facelift, the first place to look is the cabinetry. If the wood species and stain of the cabinet denote the color and feel of the room they inhabit, then the door style is what lends an overarching sense of style and refinement. There are multiple construction types, finishes, and wood species to choose for your kitchen cabinets, but you may not have realized that there are also more than one cabinet door shape. The cabinet door shape that you choose for your cabinet can solidify the design theme of your kitchen and bring thoughts of style and theme to life.
Types of Cabinet Door:
While there are many individual options when it comes time to choose a door shape for your home cabinets, there are basically three main types of cabinet door shapes: slab door, recessed panel, or raised wood.
The slab, also know as a flat panel door, is a frameless cabinet door. The wood grain and the colors may not always match perfectly across slab doors, but it is perfectly ideal if you are looking for a more rustic theme for your home design project.
If you are trying to achieve either a classic or traditional style in your kitchen, then the raised panel door may be the best choice for you. Among the raised panel cabinet door styles, there are also choices of cathedral, arched, or square shapes to determine the shape of the raised panel. This gives you a few more options to make your kitchen cabinets as custom as possible to your original ideas without being too costly.
The third type of cabinet door style is the recessed-panel door. The recessed-panel door a door that has the middle part of the cabinet door pushed back towards the inside of the cabinet. This can allow you to bring a contemporary and modern style to your kitchen. The recessed panel door is also the only door that permits a stile down the middle of the cabinet.
No matter what style or feel you want to bring to your new kitchen, Cornerstone Cabinet Company can help. We offer a wide variety of door shapes along with wood species, finishes, and colors. If you are unsure about what you want to put in your home feel free to contact one of our highly specialized kitchen designers, and make an appointment by calling us today at 480-710-7363.