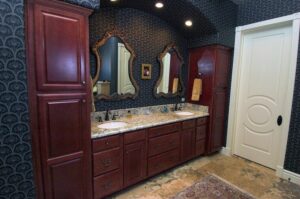 2020 not only marks a new year, it marks a new decade.
Along with your New Year's resolutions, now's the time to look at your home to see if you're ready for a change. What's nice is that you don't have to search for something new. All it takes is using established styles in new ways.
When it comes to bathrooms, shaker cabinets continue to work well even though the style is as old as cabinetry itself. They're timeless because of their versatility.
Here are three ways these cabinets bring new life to your bathroom.
Color and contrast. For those who who currently have all-white or one-toned bathrooms, consider color cabinets to add color and contrast.  White bathrooms get definition with black shaker cabinets.  Create a nautical look with nave blue…or…simply chose your favorite color to reflect your personality.
Texture. Another choice for one-color themed bathrooms is to add texture with farmhouse or rustic surfaced cabinets. It's a way to provide definition without going outside the color scheme.
Hardware. This is where shaker cabinetry is at its best. The simplicity of shaker doors allows homeowners to choose virtually any hardware they like. For example, complete the nautical bathroom with drawer pulls that resemble dock cleats.
When it comes to dark cabinets, gold, chrome and brushed nickel contrast well.
And you have endless options for light cabinets. Dark metals like brass, copper and iron always stand out. Light cabinets also support colorful ceramic hardware. 
Shaker cabinets offer a simple palate where the hardware makes a statement.  They support all sizes but don't hesitate to use large hardware like tubular and flat bar pulls. Large hardware always makes a statement.
Cornerstone Cabinet Company works with a number of manufacturers to help you create the bathroom that suits your taste and create the style that is uniquely your own.