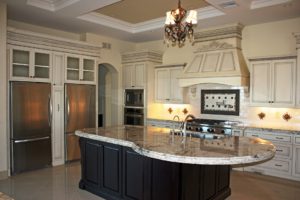 The head-spinning number of decisions needed to model the kitchen makes it the most complex room in the home to design. In "The Kitchen Island" post, we pose a number of questions to consider before designing what's often the 'heart' of the kitchen. The same goes for choosing hardware.
Some may like the look of doors and drawers with no hardware - and think they're saving money. But over time, especially in active kitchens, oil and dirt from hands can eat away the finish (even when home owners are fastidious about washing their hands!).
Narrow down the possibilities by learning how the kitchen will function. When cooking's a passion, easy-to-grasp hardware that doesn't snag clothing works best.  This style also applies to older residents and anyone who experiences sore or stiff joints.
Knob styles work well in kitchens mostly used as a place to gather or where cooking isn't a priority. The choices range from minimal design to 'bling'. Here's where individual taste really makes a statement.
For families with toddlers, drop down handles are a good choice as they're harder for little ones to operate.
Another consideration is how wide drawers are. Hardware that's too small not only gets lost, but may be inadequate to open the drawer. The accepted rule of thumb is to use two knobs or pulls for drawers 18 inches or wider. The alternative is to use oversized bar pulls.
Where To Start
Living in a desert doesn't limit choices to just Southwestern or Contemporary. Different kitchen styles help determine what type and size hardware complement the overall look. But this still leaves a dizzying array of possibilities.
One place to start is with the faucet. Cabinet knobs and pulls don't need to match the sink completely. In fact, not having everything perfectly matched adds flair and personality to individualize the area - as long as they're in harmony.
Appliance style and color can be used to narrow selection, especially if the homeowner wants to have similar looks for both appliance handles and hardware.   
The fact is, regardless of how the kitchen's used, drawers and cabinets are handled almost daily. Whatever style and size they choose, it needs to be a comfortable fit.
It's important to recognize how clients get overwhelmed with the myriad of options available. Check out "Cabinet Hardware – Jewelry for your Kitchen"  on our Homeowners page to see how we guide them to ease the process.