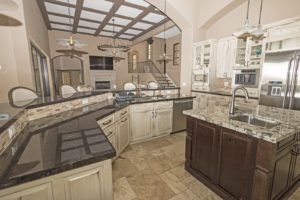 Even if you're a consummate shopper, by the time you get to hardware for your cabinets and drawers, you may be experiencing that 'deer in the headlights' feeling.
If so, here are some tips to note when deciding what style and size to use for those finishing touches.
Knobs, Cups, Drop Handles or Pulls
Recessed pulls are built into cabinet facings. They're great for active galley style kitchens because they won't snag or hook clothing. Just be sure they're something you can live with because they can't be converted to another style.
Sometimes hardware choices depend on who uses the kitchen the most. Easy-to-use Bar Pulls are favored by designers trained in Universal Design. The ability to get your hand through the pull to open the drawer or cabinet makes this optimal for elders and anyone with arthritis-like conditions. Larger sizes are more expensive but easier to use, and for wider drawers, they eliminate the need for two pulls. Just be aware that chrome, brass, or any shiny finish shows scratches more easily.
Drop Handles consist of two pieces with a dangling pull hanging from a mounted piece.  They make built-in cabinets look more like furniture - but can be harder to use. Some like them because they give toddlers more difficulty, but that also goes for anyone in a hurry. One drawback is over time; they can nick and scratch the cabinet finish.
Cup Pulls (or Bin Pulls) are upside-down cups that give the kitchen a minimalist, vintage feel. They go well on Shaker style cabinets to create the clean, understated Nordic appearance that's popular today.
Knobs offer the widest variety and can be subtle, or really dress up a kitchen. Add sparkle or formality by combining them with back plates that lay flat against the door. The advantage of back plates is how they protect the finish from scratches and give the knob a more substantial feel.
Artsy knobs add personality or establish a theme. If you want to make a statement on stand-alone cabinet, or 'brand' your kitchen with your individual style, artsy knobs vary in shape, size, and colors. But before you get too creative, be sure they fit well with your kitchen activities. Small, round knobs may be slippery. Wider drawers may require two.
Function First
Make sure the style you choose fits how you use your kitchen. Once you know what style works best (and it may be a mix!) you can narrow down the possibilities. With so many options, you're bound to find pieces you love and express your individuality.