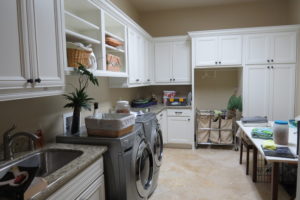 On September 6th we reviewed the trends in laundry (or utility) rooms and their versatility. Like garages, laundries are now an extension of a home's living space - and options are plentiful when it comes to re-modeling.   
Instead of just a nook to do wash, laundries now have windows, décor…even furniture…and cabinetry is the key to setting the atmosphere. Here are some ideas about the cabinets around your sink.   
A Sink Is Only As Effective As The Cabinets Surrounding It
Laundry sinks or tubs differ from other sinks due to their large size. With wide, deep basins, they're perfect for a number of tasks such as hand washing delicate clothing, bathing small pets, emptying the mop bucket, even cleaning garden tools.
For the all-purpose sink, it's best to have a combination of closed cabinets and open shelves for easy access to soaps, disinfectants, sponges and baskets.
Closed, overhead cabinets work well for storing cleaning agents out of the reach of children. Open shelves placed on either side or underneath accommodate laundry baskets where kids can toss in dirty clothes and bathing suits.
Keep Maintenance As Easy As Possible
Since this is a busy area, the best way to maintain a clean, orderly appearance is to keep it simple. Shaker cabinets, time tested and always popular - are a great choice around the entire laundry. For those cabinets immediately around the sink…think of simple, functional hardware. Whether you prefer cups, knobs or handles – larger, easy to grasp hardware makes more sense when your hands are wet or soapy.
Regardless of whether you have lots of space or have to 'snug' a sink in, well placed cabinetry actually speeds up (and removes some of the 'work') from tasks by keeping the most-used items at hand.
But there's more to laundries than just being practical.
And There's No Reason Why They Can't Be Fun
Sinks come in a number of finishes and colors. Our forte is in helping clients combine these options with our cabinetry to create either practical or whimsical laundry rooms - depending on what they desire.
With choices like stainless steel, porcelain, or farmhouse sinks – single or double basins – we build cabinets that frame your sink to create an enjoyable place to spend time. Let us help you remodel your laundry to give you the best fit for your home.