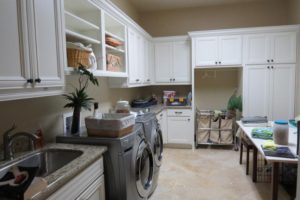 Whether your laundry room is large or small, you want to make the best use of what space you have. Once simply a nook for a washer and dryer; it's become multi-functional. In many homes, the laundry room often forms a transition from garage or backyard to the rest of the house… and it's more active than ever! Here are some ideas of how to use creative cabinetry to maximize every inch.
Arizona's Version of the Mud Room
Mud rooms, traditionally the room with benches, hooks, and cubby holes, were set up for anyone entering wearing dirty, wet clothing. And they're great for desert climates, this time for swimsuits! It's the room to leave clothing on the way in or the way out. Hooks work well for wet towels and bathing suits. Kids can have their own cubby holes to keep clothing organized.
Get the Dog Out of the Bathroom
Large sinks to shampoo your pet(s) eliminate chaos in the bathroom and keep bathtubs in the domain of humans. Farmhouse sinks with their deep bowls and upfront placement ease the process. Use open shelves nearby to store all items needed to keep your furry friends clean.
Creative Additions Ease Laundry Tasks
Recessed upper cabinets open countertop space for sorting and folding laundry. Additional items like fold-out drying racks (mounted on walls or cabinet sides), clothes rods and built-in ironing boards keep everything you need within reach.
Liven Up the Atmosphere With Color
There's no reason why the laundry room can't look as good as the rest of the interior. Get cabinets in complementary hues to lighten and brighten the entire room. Or contrast all white cabinets with colored appliances. Add a personal touch by using open shelving for your most-used items or to add some decorative items.
The Right Mix for Laundry Cabinets
Larger open shelves are great places to stash the laundry basket. Instead of just cabinets with pull-out shelves, try full-length pull-out cabinets. Good for filling in narrow places, they add a lot more storage space and make it easier to organize smaller laundry care items.
For floor to ceiling cabinets, use the higher cabinets for less used items like seasonal decorations.
Finally, polish the look with wainscoting and crown molding. If you have an outside window, frame it to add warmth and personality to make laundry duties feel like less work.
Here at Cornerstone Cabinetry, we help homeowners design their personalized laundry rooms with multiple cabinet options to fit their wants and needs. The laundry room isn't just for washers and dryers anymore!