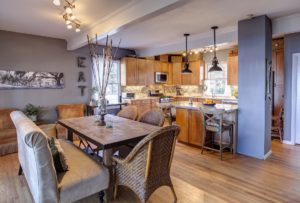 Quartz vs. Soapstone countertops
As we stated in 'Quartz Counter' (Mar 9, 2016), Quartz leads the race in countertop materials. As kitchen designs evolve, brands like Silestone, Caesarstone, and Cambria, open options to clients seeking their personal imprint.  Alternatively, Soapstone provides an option for natural material. Granite and marble may be receding, but they aren't dead.  But Quartz and Soapstone have distinct characteristics and advantages that suit our clients' changing needs. The best fit is determined by what's most important to them.
Quartz and soapstone enhance ease of use
The term 'sealant' evokes the idea of chemicals. The non-porous surfaces of both Quartz and Soapstone appeal to clients as less work and environmentally friendly.
Other advantages to non-porous surfaces are:
Stain resistance.
Scratch resistance.
Heat resistance.
Resistant to bacteria. Bacterial resistance can be a huge selling point for clients with kids and grandkids.
Capturing the right kitchen design and usage
When color is critical, Quartz offers more options to blend or contrast with the neutral paint shades that are currently so popular. Manufactured materials have the added advantage of uniform appearance that allows pieces to butt up to each other to make seams almost invisible.
On the other hand, soapstone appeals to those who value the natural look. It can be quarried in the US, but Brazilian soapstone has the same type of veining as marble. Coming from nature limits the color choices and it's best for those desiring gray to black surfaces. Although not required, rubbing soapstone with mineral oil darkens the color. This is definitely not the choice for a colorful kitchen and requires working with one slab per countertop to maintain its uniform appearance.
The ability to set down their pots and pans right from the stove without disfiguration vaults Soapstone's popularity with cooks. It won't absorb liquids or discolor from spilled acids or alkalis.
Even though both are scratch resistant, accidents happen. Unlike manufactured surfaces, soapstone imperfections can be sanded out
Client needs determine the choice
Just like Granite and Marble, Quartz and Soapstone increase home re-sale values. Since countertops tend to create the "Wow" factor in kitchens (and bathrooms); versatility, color, and the importance of a natural look will guide client choices. Soapstone works best in casual or rustic environments; however, quartz can easily fit those, and any other look.
Both are welcome alternatives to granite and marble. In the future, we'll discuss more countertop options.