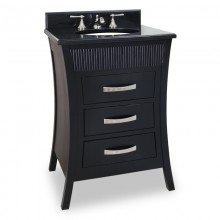 Five things to consider BEFORE replacing your vanity.
When it comes to vanities, it's easy to focus on sinks and faucets. While the cabinet may not be the most glamorous part, choosing the right style can make or break the entire bathroom design. It's why you need to consider these five characteristics before you make a change.

Placement
Where your vanity goes is just as important as how it looks. Things to consider are…
Is there room for traffic to flow, even if drawers or doors are open?
Do the drawers or doors block the shower door or other doors?
Is there adequate space for a mirror and/or medicine chest on the wall above?
Plumbing
Moving the vanity to a different location requires plumbing changes that add to the overall re-model costs. Even changing from a floor-mounted vanity to a wall-mounted version may require rerouting pipes and drains; therefore it's important to budget accordingly.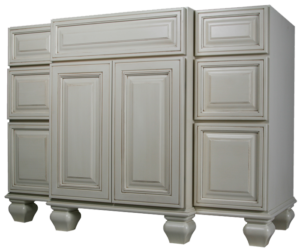 Materials
Since bath rooms are humid and vanities can be wet and busy; you need materials that can stand up to these conditions. Thermafoil and laminates hold up well. Wood can be used but must be sealed properly to prevent water stains and warping.
Size
Vanities need to be scaled to the size of the room they're in.  Some designers recommend adding 20% more storage space than you think you'll need.  The problem is – cram in a vanity that's too big and it throws off the overall balance. We'll talk about how to increase storage efficiency in the next section.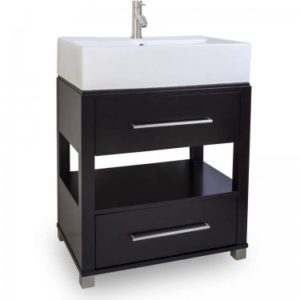 The other consideration is height. The traditional standard for vanities is 32" high, but some suggest going up to 34-35". Before you make that decision, wash your face at a counter that high. Some people have reported the higher tops force them to bend their elbows more, causing water to run down their arms and drip to the floor.
Custom Design
When it comes to storage efficiency, custom designs offer endless possibilities. Things like placing the bowl off center or using different size bowls open up space not available in a store-bought model. If the room doesn't support a larger vanity, going custom gives the needed storage in the right scale.   
One fallacy is the idea that custom-made is more expensive. This isn't always the case and more important, having enough storage with the right size vanity eliminates wasting money on a re-model that doesn't work.
See how Cornerstone Cabinetry can assist you when it comes to changing your vanity.