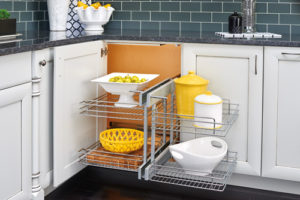 Cabinetry has come a long way from consisting of drawers and "boxes with doors". One example is the pullout cabinet, a style that works well beyond the kitchen. Pullouts can be customized to different heights and widths while they add flexibility to your laundry room, bathroom, and garage…virtually any location where you have cabinets. Pullouts work well with the principles of Universal Design by providing smart storage space and giving homeowners easy access to what they need most.
Instead of reaching to overhead cabinets for detergents and fabric softeners, use a pullout located beside and at the same level or slightly above the washer and dryer.  
Pull outs are also good for garage cabinets instead of hanging tools on pegboards. It's a way to create a neater appearance, especially if you use your garage as extended living space.
Pullouts in bathrooms are ideal for hiding the waste can or storing additional towels.
Our cabinetry partners offer multiple options
Companies like Hardwood Resources offer sturdy slides from Dura-Close, built to be smooth and quiet without the wiggle. Never thought about wiggle? Check out (http://www.hardwareresources.com/ ) to view the short video on the difference between their Base Cabinet Pullout BP02 and what most other companies offer.
One more product of note is the recent addition of 35-quart waste container pullouts that come pre-assembled.  You can fit one or two containers in cabinets with a minimum 15-inch opening width.
Pullout cabinets have a variety of accessories to expand their use even more. Take Hafele – our partner who offers the ability to hide pullout storage for office accessories. One such option is the pencil drawer that comes in 3, 5, and 9-compartment configurations. Not only does it separate small items like paper clips and writing implements, it keeps your desk looking neat.
Hafele also offers a variety of files storage options - like file frame kits and rails for hanging file systems…plus… keyboard trays that slide out easily.
Finally, Rev-a-Shelf, a leading authority in organizing cabinet accessories offers the following page to help you decide how to organize your cabinetry.  It starts with selecting the room, cabinet type and dimensions, and then adds additional accessories to help you design exactly what you want.
We're proud to work with these and other companies like Eclipse, Oakcraft, Shiloh, and Aspect to construct every cabinet throughout your home – making them fit your specific needs.