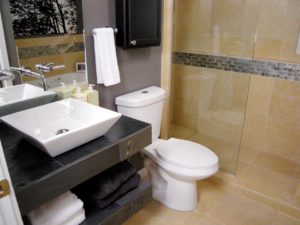 Even in grand homes with a large master bath, there is likely a guest bathroom or a powder room with minimal square footage. Cramped bathrooms can feel open and airy with the right layout and well-proportioned vanity choices.
The best vanities for small baths make a statement without compromising storage needs. Consider a floating vanity to make the room feel bigger by providing more visual space underneath. (A raised style makes the floor easier to clean, too!) Perhaps add a tall open towel shelf over the toilet to allow more personal items and cleaning products to be stashed in the vanity cabinetry.
Choosing a vessel sink can add a few inches to countertop spaces. Building the lighting right into the vanity and mirror also gives off plenty of lumens for tasks without the need for an additional light fixture to ruin sleek, magnifying lines. A corner vanity can be another chic solution to a small bathroom challenge. In any case, it is important to balance small vanity surface area above with ample drawer room below because hinged cabinets may not have enough available space to fully open the doors.
If you must try to squeeze in a double vanity, try one long, narrow sink with faucets mounted at each end. One large mirror above the double vanity is a great aid to give the illusion of a bigger, brighter space. Also consider making the double vanity multi-level so that one side of the counter is low enough for kids to use easily without the need for a stepstool.
A small bathroom doesn't have to be claustrophobic. Consult the design experts from Cornerstone Cabinet Company to create your own cozy retreat.