There are a lot of cabinets makers out there. And indeed, we respect each and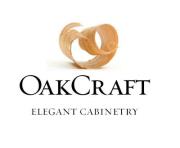 every one. But there's a difference between "making" a cabinet, and "creating" cabinetry. For almost a half a century, the artisans at OakCraft have been creating inspired works of art that have in turn, inspired the people that have them throughout their homes.
Combining superior craftsmanship with cost-saving production processes, OakCraft delivers a full range of quality products that cater to all your needs from cabinets to built-ins, interior wood accessories to match cabinet color and much more. We tailor make product sizes to fit specific requirements, improve aesthetics, and provide an innovative sense of design.